Memorial Day Services held at courthouse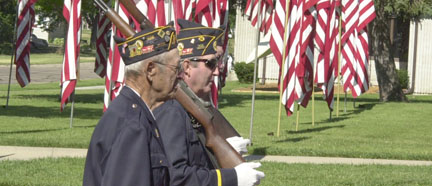 The Veterans of Foreign Wars Post 5328, American Legion Post 180, Sons of the American Legion and Oregon Trail Post 180 Riders commemorated the area's war heroes during Thayer County's annual Memorial Day celebration Monday morning. The ceremony traditionally takes place on the Thayer County courthouse lawn and moves to Rose Hill Cemetery in Hebron.

Rev. Steven Speichinger, an Air Force veteran, was the guest speaker for the morning. He serves as pastor for the First Community Church of Hebron.
For more photos of the Memorial Day ceremony in Hebron, click on the photos prompt at the top of the page.