New Year baby born at TCHS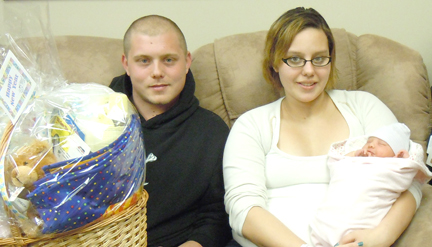 Born Jan. 8, 2012, Karlea Marie, a little girl weighing six pounds 15 ounces, rang in the New Year for (pictured right) parents Brandon Achtmeier (l) of Linn, Kan., and Ashley Corning (r) of Hebron. Karlea was born at 9:29 a.m., and was 20.5 inches long. She is her parents first child.
Grandparents include Jeff and Candida Corning of Hebron and Yvette and Kevin Peters of Linn, Kan. Great-grandmother Linda Corning lives in Lake Ozark, Mo. Thayer County Health Services gifts each New Year baby with a basket filled with baby-related goodies from 15 Thayer County businesses.