Pallet-Able Creations opens in Hebron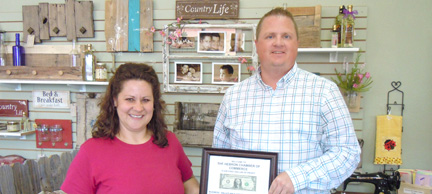 Joy Acuna and her husband Richard can turn discarded pallets, old doors, unused cupboards and any other wooden oddments into workable, attractive pieces of furniture and wall art for your home. "Just bring something in and we'll see what we can turn it into," Joy says referring to the process as repurposing.
At her new shop in Hebron, Pallet-Able Creations, repurposed shelves, tables, chairs and wall art serve as inspiration for custom-made decorations for any home. "I want people to see the items here to give them ideas for what we can  do with their old doors and windows or furniture," she explains. "It's definitely inspired by the shabby chic movement."
The Acunas also have pecan-based food items as well as fresh pecans available. "My husband comes from generations of pecan harvesters in Texas," Joy said. "We offer healthful alternatives such as pecan oil or pecan butter."
The cozy gift shop is open from 9 a.m. to 6 p.m., Tuesday through Friday and from 9 a.m. to noon on Saturdays.