Relay For Life fine showing despite weather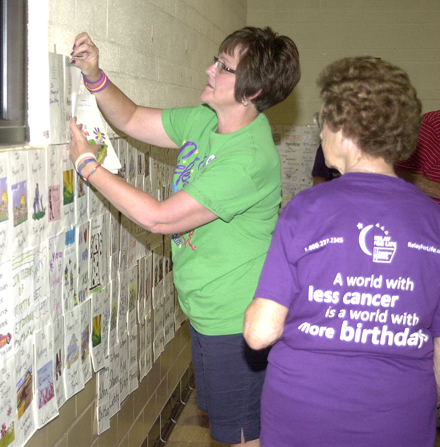 Thayer County held its annual Relay For Life fundraiser Friday night at the Deshler Lutheran School gymnasium due to the weather. The county's 10th anniversary event was moved to Deshler due to Thayer Central's track construction in Hebron, but a rainy day forced the event indoors when Deshler's high school track became a muddy mess. Pictured above: Longtime Relay volunteer Marla Heitmann (l) hangs a luminary on the gymnasium wall. Some luminaries lined the sidewalk outdoors, but most were hung on the walls inside. (For more photos of the Thayer County Relay For Life, click on the photos prompt in the banner on the home page.)

(Submitted by Relay For Life co-chair Naomi Grupe)
Although early morning rains forced a decision to move the 10th annual Thayer County Relay For Life indoors, it didn't stop the "Celebrate, Remember and Fight Back" event.  

Members of the Deshler High School National Honor Society stopped filling luminary bags with sand and taped them to the walls of the Deshler Lutheran School gym where an abbreviated version of the Relay was held. Filled bags lined the sidewalks in front of the school to be lit at dusk.

Krista Schardt opened the program welcoming survivors, caregivers and guests. The Deshler American Legion Halfman Post 352 presented the colors and Brianna Pohlmann, Amanda Peterson and Tabitha Burger sang the National Anthem. Pastor
Brian Francik opened the ceremonies with prayer followed by the traditional survivors' victory lap. Team captains, corporate sponsors and committee members were recognized by ACS staff partner Sherry Knapp, who also honored teams and individuals for fund-raising efforts.  

Emcee, J.D. Anderson and dee-jay, Randy Durflinger kept the crowd entertained with upbeat music and commentary throughout the evening.  

A crowd-pleasing event was provided by Tory Schoof who had her hair cut by stylist, Kay Eickman for the "Locks of Love" program. Auctioneer, Lyle Pitts along with his wife Bev, Brian and Heidi Isernhagen ran the live auction.

Adding to the good food served by The Chuck Wagon, Tate's Large Car Express, Subway and Casey's were tastes of homemade ice cream  provided by 4H members competing in their annual ice cream roll off.

More solemn events began at dusk when luminarias were lit by team captains. Virginia Brase shared her celebration of her fifth year as a survivor and Becky Cahill remembered her late husband Kent's tough battle with cancer. Every day on the job as a nurse, Marla Heitman finds ways to fight back against a disease and support those dealing with the disease. Krista shared hope we have and progress made possible by supporting of Relay for Life.

The evening ended on a high note with more fun, games and an invitation to see everyone in 2012 rain or shine.