TCCT whips up Holiday Surprise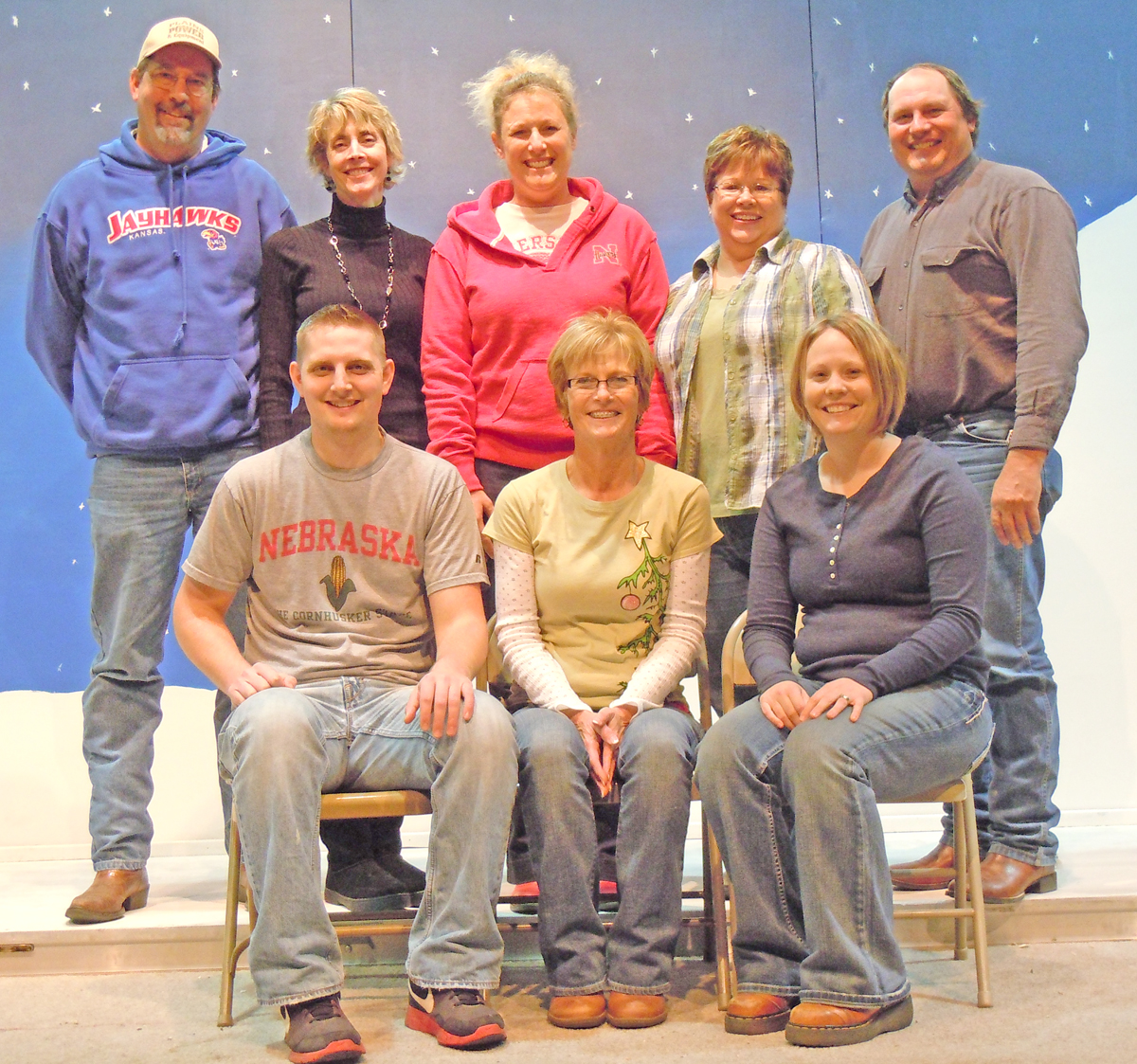 Get ready to sigh, cheer, boo and throw popcorn as the Thayer County Community Theatre presents "The Holiday Surprise," a snap-happy Christmas melodrama, Dec. 10-12, at the Chester City Auditorium in Chester. Cast members include (l-r): Back row: Anne and Darcy Heitmann, Amy Harris, Lynne Mesloh, and John Lange. Front row: Paul Philippi, Lois Norder and Kim Mussman. The play is directed by longtime member and veteran actor and director Lois Norder. Not pictured: Rev. Mark Baldwin will announce the festivities.
In 1987, professional actor Ron Palillo joined the Thayer County Community Theatre in celebrating its silver anniversary. Palillo, familiarly known as "Horseshack" from  the television series "Welcome Back, Kotter," brought his talent to the community stage as the star of "The Foreigner," as well as spent time educating drama students about the his craft at Thayer County schools.
Palillo's appearance remains one of the highlights in the Theatre's 48-year past and with approximately 200 productions under its belt, the thespian troupe is once again ready to enter the stage in "The Holiday Surprise," a family-friendly Christmas melodrama set in Goosebump, Alaska.

Given the theater company's production experience from dramas to comedies to musicals, only a handful of melodramas have been staged by the troupe and all have been westerns, a standard theme with this type of script. This time, however, the story unfolds in snowbound Goosebump, the first town south of the North Pole, and centers around that classic of characters, Santa Claus.

Producers of the Theatre's first play, "Assorted Ladies in a Jam," entertained an audience of 175 in a one-night performance at the Hebron High School (Thayer Central) gymnasium in 1962. From there, the troupe produced nine additional productions including the musical "Oklahoma" and mystery "Dial M for Murder," before finding its own playhouse in 1968.

Here the Theatre used the  melodrama style to initiate the new 100-seat home in "Curse You, Jack Dalton."  The performance, directed by Hilmar Krueger and starring  Eleanor Rizek, Armida Sasek, Marlene Butler, Jim Cavanaugh, Mike Troshinski, Bill Coady and Judy McLaughlin was sold out.

As is always the case in melodramatic productions, audience participation is key as viewers sigh for the heroine, cheer for the hero, boo and hiss and throw popcorn at the villian and generally hope for the best. In "The Holiday Surprise," directed by longtime TCCT member Lois Norder, the audience can expect no different as villian Rasputin Von Wassail (Darcy Heitmann) attempts to take over Christmas.

Join Mazie Tannenbaum (Lynn Mesloh), Patty Poinsettia (Kim Mussman), Sergeant Timothy Tinsel (Paul Philippi), and Mr. Whoopee (John Lange) as they try to stop the devious Von Wassail and his sensuous sidekick Katrina Hot-Cockles (Anne Heitmann).

Performances at the Chester City Auditorium are Friday, Dec. 10, at 7:30 p.m., Saturday, Dec. 11, at 7:30 p.m., and Sunday, Dec. 12, at 3 p.m. A lounge offering beverages and small snacks will open one hour prior to the performance and again during intermission.

Reservations are preferred and can be made by calling 324-5538 or 353-3775.