TCHCC presents program at fall sports meeting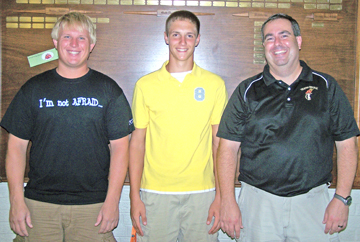 by Jana Tietjen – Thayer County Healthy Communities Coalition Youth Coordinator
On Aug. 22, Thayer Central Community High School hosted its annual fall sports meeting for all parents in the district that have students participating in volleyball, football, and cross country.
Mr. Desmond started the meeting by welcoming everyone and encouraging all parents and athletes to demonstrate good sportsmanship through the fall season. He then turned the meeting over to Mr. Solomon who gave a presentation on John Underwood's, "Life of an Athlete."
In March, Thayer Central Athletic Director Dan Desmond, Bryan Solomon, Josh Lanik, Megan Hinrichs, Carlece Kenner, Clayton Hintz and Bruning-Davenport Athletic Director Fred Kluck attended the John Underwood training in Lincoln sponsored by the Thayer County Healthy Communities Coalition (TCHCC), Region V and the Nebraska Coaches Association.
"Life of an Athlete" promotes the character development and accountability among young athletes that builds better teams, better athletes and ultimately better adults. Two states, New York and New Mexico, have made it part of the athletic program in every public high school in the state.
John Underwood is a former NCAA All-American, International-level distance runner and World Masters Champion. John has coached or advised more than two dozen Olympians, including World and Olympic Champions. He holds three International Olympic Solidarity diplomas for coaching and has been a crusader for drug-free sports at all levels. John's innovative program, "Pure Performance," has gained international prominence.
He is the master trainer for the New York Public High School Athletic Association Chemical Health program, which educates over 750 school districts and over 500,000 athletes yearly. He has conducted the only physiological case studies of the residual effect of alcohol on elite athletic performance.
He has appeared as a guest commentator for ABC Wide World of Sports and has worked with nearly all sport federations, including the NCAA, NFL, NBA, NHL, the U.S. Olympic Committee, Sports Canada, the International Olympic Committee and the U.S. Navy Seals.
After giving some details about John Underwood, Bryan Solomon, 9-12 grade science teacher and track coach explained to the parents why he thinks this program would benefit every student in the school, whether they are involved in sports or not.
Mr. Solomon also talked about his passion for teaching and how he and other coaches, teacher and parents care deeply about the students and athletes at Thayer Central.
Since some of the athletes were present, Mr. Solomon asked the students if they were excited for the upcoming year and what their goals were. Bridgette Baden responded, "I am very excited for volleyball and my goal is to win state."
Mr. Solomon also asked the students if their practices had been extremely difficult these past two weeks. The response from all the athletes was the same. They stated that the heat had made the practices very difficult and that they were not in as good of shape as they thought they would be.
So why would implementing "Life of an Athlete" in our school be important? First, this program is designed to develop better students and athletes by improving their leadership skills on and off the playing field. It also encourages the athletes to be better role models for the junior high and elementary students by demonstrating the importance of being drug and alcohol free.
It is imperative for our future athletes to realize that it is not the "cool" thing to drink in high school. Finally, the ultimate goal for Thayer Central would be to eliminate all alcohol and drugs in the school.
After explaining the importance of the program, Mr. Solomon continued with some statistics provided by John Underwood.
•Drinkers are twice as likely to become injured as non-drinkers
•Alcohol reduces performance potential by up to 15-30 percent in high school athletes
•Alcohol impairs reaction time up to 12 hours after consumption
Mr. Solomon also informed the parents that the ten most dangerous years of life are between the ages of 14-24 and that we lose more people to fatal accidents during this time than during all other. He also reported some Thayer County data from the 2007 Nebraska Risk and Protective Factors Survey. Some of the statistics he found most alarming were:
•46.2 percent of eighth graders reported getting alcohol from a parent
•57.9 percent percent of ninth graders reported drinking alcohol in a car
•41.5 percent of eighth graders reported having more than just a couple sips of alcohol
These statistics were of great concern to Mr. Solomon, especially the second one that stated students were drinking in a car. He expressed his concern for students demonstrating this risky behavior and pleaded with them to consider the dangers and to call someone if they ever found themselves in a bad situation.
Mr. Solomon ended the presentation with the effects of alcohol on your brain and explained how one night of drinking equals 14 days of lost training. He also explained how alcohol lowers your testosterone levels and described how it has a greater impact on female athletes.
After his presentation, Thayer County Healthy Communities Coalition (TCHCC) youth member Clayton Hintz asked all the high school coalition members to stand and be recognized. Then he explained what TCHCC was and welcomed all students in the school that were committed to being drug free to join the coalition.
Lewis Hackbart, TCHCC Safe Homes Coordinator gave a short presentation on the Safe Homes Parent Network. Safe Homes is a network of parents that have made the pledge to not provide alcohol in their homes. The parents involved in Safe Homes also receive monthly newsletters that provide information about the newest trends and dangers related to drugs and alcohol.