US Senator Johanns visits Hebron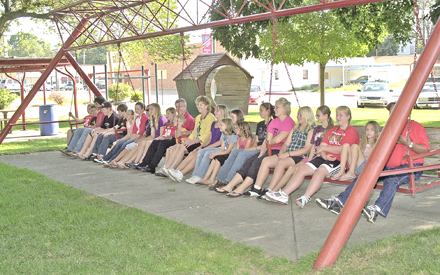 U.S. Senator Mike Johanns opened his local chat Tuesday morning at the Thayer County Courthouse in Hebron discussing the ever-increasing federal debt and looming entitlement crisis. In 1970 the national debt was $380 billion and has grown to $13 trillion, he explained using a poster-sized chart which also indicated a debt prediction of $19.6 trillion by 2015; a conservative guess at best, he added. 
"We didn't get here overnight," he said of the debt increase. "It took nearly all my life, and this is why I believe it is about quality of life. Someone has to own this debt."
Johanns said he believed the next generation would have their own problems and issues just like we do today, but if nothing is done to correct fiscal irresponsibilities committed now, future generations will face this additional issue. "If they have their own problems and we leave this as our legacy," he added, "we greatly affect their quality of life."
In a question and answer period following the senator's opening remarks, locals covered issues including the Bakken formation (an oil field in North Dakota and Montana said to contain 3.0 to 4.3 billion barrels of undiscovered, technically recoverable oil where Senator Johanns feels we should be drilling), estate tax, Medicaid, veteran services, communications technology, ethanol, bailouts, and illegal immigration.
In regard to illegal immigration, the senator said, "You just described the problem with illegal immigration. It's illegal."
He said those who are in the United States illegally often work, but do not generate tax revenue and felt illegal immigrants are also a burden on the health industry.
"I believe Arizona is doing exactly what Arizona needs to do. The Federal government has done an awful job at policing their border. They have a huge problem there," he added.
Blue Valley Lutheran Homes CEO Lyle Hight questioned whether Medicaid would be available in the future to sustain facilities such as the Care Home, a unique health facility for mentally and physically handicapped individuals. Medicaid makes up nearly 98 percent of the Home's budget.
"The government is going to do its best to keep this going," he said, "because this is the last safety net for those who qualify. Medicaid is an open entitlement. If you qualify, you get it. But, do I see a boat load of money coming into Medicaid? No. Do I see massive cuts in the system? No."
And as for the upcoming vote on the $26 billion federal bailout to states earmarked to help finance Medicaid, Johanns said he viewed it as an irresponsible bailout of irresponsible government. The funding package would set up a $10 billion Education Jobs Fund to stop teacher layoffs as well as disperse $16.1 billion to Medicaid. Nebraska is expected to receive $100 million from those funds. "It will help the state budget," he said, "but it won't solve the state budget problems."
Johanns also touched on his fondness of ethanol and how he'd like to see it go to E-15. "I've signed everything there is to sign about ethanol," he said of his staunch support. 
The senator wrapped up his visit by heading to Roosevelt Park to meet with 4-H students. 
TC 4-H Project
Traditionally, Thayer County 4-H students give time and energy back to their communities by saving pop tabs for the Ronald McDonald House; however, this year the students answered a challenge from the Extension Office. 
The county youth created and made approximately 70 pillowcases as a gift to all children who must enter the hospital. Each child receives one of the brightly colored and sewn pillowcases on their bed while at the hospital, then may take the pillowcase home when they are released. 
Tuesday morning, Thayer County 4-H students donated the pillowcases to TCHS CEO Joyce Beck at Roosevelt Park in Hebron where they posed for a photograph with Beck and Senator Johanns on the World's Largest Porch Swing. "Guys, this is so relaxing," the senator said while swinging with the students. "I think I'll just spend the morning here."