Titans compete in Fairbury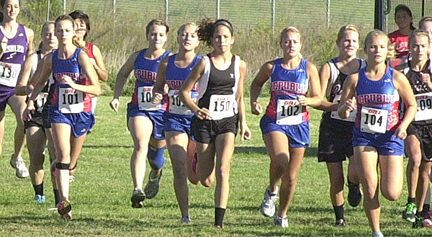 Thayer Central saw three cross country members place at the Fairbury meet last week including Bailey Linton for the girls and Adam Hellbusch andRussell Heitmann for the boys. Linton earned a fourth place finish in a time of 16:39.0 while Hellbusch finished 11th in a time of 19:34.0 and Heitmann finished 15th in a time of 19:59.0.
Other finishes included Sydney Goertzen (19:55) and Jasmine Kovacs (23:42) for the girls and Heath Fink (20:45), Cameron Asche (22:04), Ethan Friesen (22:19), Ben Baden (23:06), Tanner Mumm (26:39), and Caden Mikkelson (26:42) for the boys.
The Thayer Central boys' team finished seventh overall with 94 points. Syracuse won the event with 31 points followed by Beatrice 50, Republic county 50, Tri County 62, McCool Junction 65, Fairbury 92, Thayer Central 94, and South Central 171.
The Titans head to Geneva Thursday, Sept. 15, to compete in the Fillmore Central meet.