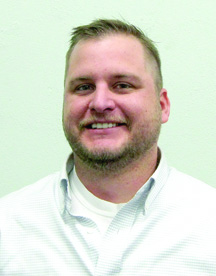 Jeremy Voss sees potential in Thayer County; economic development potential, that is. "It was one of the draws for my wife Jeannine and I," he said last week as he settled into the directorship of the Thayer County Economic Development Alliance (TCEDA). "We like what we see."
The Alliance has been using the last few months to restructure itself and find new leadership into the county's economic development future. Voss fulfills that role. "This is a community that wants an economic development future and needs it," he said, stressing key issues such as new business and business retention and finding ways to keep our youth here. "This community wants to branch out, let others know we're here. We at TCEDA are focusing on bringing in something to take pride in – looking for that one thing we can be identified by."
Voss brings to the economic development table two MBAs with an emphasis on international business and enterprise resource technologies. He also has an undergraduate degree in history.
"TCEDA is a networking resource. We want to help you stay here, help you succeed," he said. "We're like a human Rolodex. We connect people and want to help you find answers."
Voss is no stranger to the area. His mother Mary (Wiedel) grew up here. "We came back to visit my grandparents, Harry and Linda Wiedel, for holidays and family reunions," he said. "I remember rabbit hunting and running around here as a kid."
Voss grew up in Essex, Iowa; his wife is from Cheyenne Wyo. The couple moved here from San Antonio, Texas.
"I woke up in a hospital there," he said and explains how he was wounded while on duty with the U.S. Army in Iraq. "We ran the main supply route between Baghdad and Sadr City, and on this particular day, we hit a couple of road bombs on the way out." But, it was the one they hit on the way back that nearly killed him. "In the short time it took to go the three-mile distance of the supply route, turn around and go back, they'd already filled one of the holes with another bomb."
Voss said he spent a year in recovery with a frontal lobe injury and complete reconstruction of his left hand. "Jeannine came to visit me in the hospital shortly after it happened and informed me we were moving to San Antonio," he laughs. They stayed there the next seven years.
Voss said his wife is a graphic designer who offers valuable experience in marketing and research to the area. "She's already getting to know people and collecting information about the communities here," he said adding he is currently meeting and greeting locals, too.
"We are excited to be here. We see many opportunities and look forward to working with all the communities in Thayer County."
The TCEDA office is located on the top floor of the Thayer County Courthouse. Voss can be reached at 402-768-7407 or at tceda@diodecom.net. For more information about TCEDA visit www.thayercounty.org.