BDS advances to quarterfinals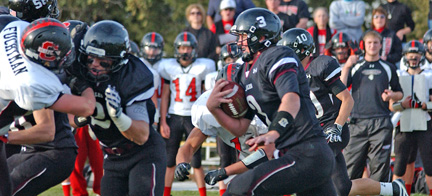 The BDS football team walked away from the second round of the 2012 D-1 playoffs under a dome of satisfaction after defeating Creighton Wednesday night, 42-14, in Shickley. The squad fulfilled its goal not only by winning to advance to the next round, but by winning to exact a sense of revenge – the Bulldogs are the reason BDS was knocked out of the 2011 state tourney.

A controversial call in the final seconds of that game determined the Eagle loss, 44-48, but this year, the Eagles (9-1) reversed the outcome to head into the quarterfinals Tuesday, Nov. 6, to face the unbeaten and top-ranked Howells-Dodge Jaguars (10-0) at Howells. Kickoff is at 6 p.m.

On Halloween night, BDS co-coach Mark Rotter said he thought the team played really well. Ryan Tegtmeier led the offense amassing 300 total yards, five touchdowns and three PATs; he rushed for 100 yards on 22 carries and passed for 200 yards on 11-of-21 tosses.

Tegtmeier scored three touchdowns connecting with Luke Christensen on a 28-yard pass, Grant Norder on a 56-yard pass and Chris Rohr on a 55-yard pass. He also scored twice scampering over the line for one yard in the second period and three yards in the fourth period. Wyatt Schoenholz provided the team's final score of the night on a 20-yard run in fourth period.

The team had 335 total yards of offense in 14 first downs while Creighton put together 374 yards in 14 first downs. In rushing, BDS went 135 yards on 36 carries while Creighton went 255 yards on 56 carries.

For BDS, Wyatt Schoenholz went 19 yards on two carries; Nathan Hendrickson was 5-15; Grant Norder 1-3; and Riley Tegtmeier 2-4.
Norder also put together 70 yards on three catches; Hendrickson was good for 24 yards on three receipts; Chris Rohr caught two passes for 82 yards and Luke Christensen caught two passes for 27 yards.