Legion team hosts, competes in wood bat tourney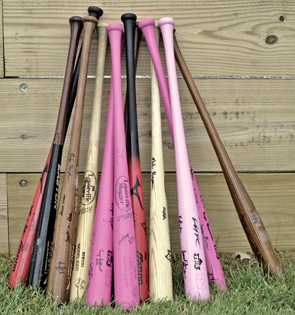 Crack! The sound of a wood bat  hitting a pitch rang out at the Hebron Sports Complex over the past weekend.
The Hebron Senior Legion Baseball Team hosted a wood bat tournament June 15-16 raising money for Relay for Life. Local businesses could sponsor a bat with the proceeds going to the cancer event scheduled for the end of July. "Each player signed his name to the bat they used," said tourney co-organizer, Loren Goedeken, "and the sponsor of the bat got to keep it after the tournament."
Even though rain threatened, the tournament played out as planned Saturday and Sunday. Five teams participated including the Hebron American Legion team. The team is coached by Don Wegener and Brandon Fangmeyer with assistants Sam Wiedel and Nick Burkhardt. This was the team's first time participating in a wood bat tournament. The team is made up of athletes 19 and under.
"These guys on the team have never even held a wooden bat, let alone played a game with one," said Goedeken.
Because wood bats generally don't hit as far as metal bats, most hits were only single or double hits.
The Hebron team made it to the championship game, but fell to Concordia 7-1 on Sunday night.
"The four teams playing Sunday said they had a good time and wanted to be asked back next year," said Mark Hintz, co-organizer of the tourney.
In case you missed the action last weekend, there is still time to watch the Hebron American Legion team play with aluminum bats.