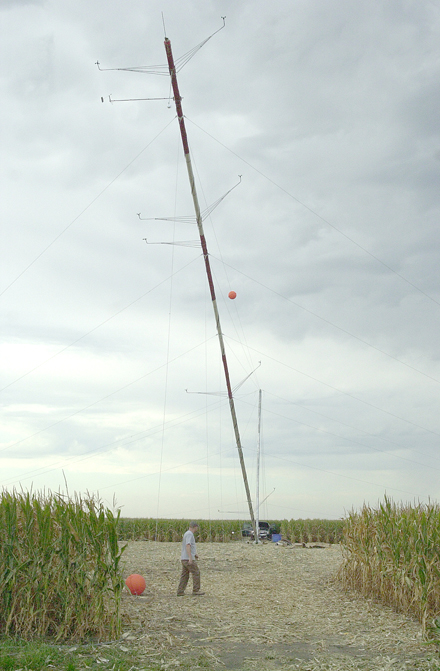 While local farmer Bob Marsh cleared land of corn not quite ready for harvesting, excavator Gary Hintz set about digging holes for guide wires that anchor a meteorological tower. Project organizer, Gary Aksamit, stood shaking his head in amazement as a once talked about dream was quickly becoming a reality last week. "I'm really excited about this," he said. "We've been talking about this for quite some time." 
The "we" Aksamit refers to is the Aeolus Energy LLC, a group of local land owners backing a wind farm Aksamit proposed in 2009. The meteorological tower is the kick-start to the wind project. It will measure the amount of wind present in the area indicating how much electricity can be generated by the wind farm. Data will be collected for a year or more.
"We're in a very desirable situation because the met tower will give us some fall wind data as well as information from our windiest months in the spring," Aksamit said late last month. Last week at the met tower site, he stressed Thayer County's viability as a windy enough place to create electricity. "A wind farm will have a direct economic impact on the county, say in the way of a tuition program or compensation to help pay for parks and recreation, things like that," he said.
The $40,000 196-foot met tower, funded entirely by Aksamit and other local investors, is located four miles east of Highway 81 on the south side of Road Q, or more familiarly Monument Road. GPCo out of Salt Lake City installed the tower on land Aksamit leases from the Marsh family. "They will be able to farm all the way up to the tower," he said.
The proposed wind farm project is expected to cover 10,000 to 15,000 acres along the Monument Road between U.S. Highway 81 and Nebraska Highway 53. Three lines of approximately 40 turbines will stretch across the 8-9 mile path; however, the number of met towers yet to be installed depends on how outside lenders feel about the data obtained by the one meteorological tower that went up last week, Aksamit said. "There could possibly be six met towers erected."
Aksamit began talking to local landowners and other investors about 18 months ago. Today he says he has 90-95 percent of the landowners along the farm's projected path backing the project. 
Gina Hudson of Belvidere, is serving as local coordinator for the project. She met with county commissioners last month to discuss safety features of the tower; for example, large orange balls are placed on the guide wires to make them more visible to pilots and there is a blinking light on top. The county zoning ordinance requires any structure over 100 feet tall must have a blinking light on top. 
Aksamit funded a wind profile last year created by using data from the National Renewable Energy Lab, Federal Aviation Administration and NASA after feeling there was enough interest in the project. He has maintained transparency in the project while at the same time through a series of local townhall-style meetings, teaching Thayer County landowners how they can retain ownership of the wind farm. He said the next step is to seek out venture capital, and that although a substantial amount of local money has been raised for the project, before wind turbines can be erected, the project must see close to $2 million.