Area teens use video, banners to spread word against drinking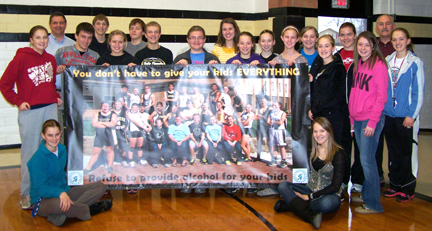 Thayer Central and Bruning-Davenport TCHCC (Thayer County Healthy Coalition) members presented  4'x 8' portable banners to their respective high schools recently.
Members gathered this fall to take pictures and later discussed what message they wanted on the banners. Each school targeted a different audience with a powerful message that can be viewed at indoor and outdoor activities throughout the year.
TCHCC student activities coordinator Jana Tietjen told Thayer County Commissioners last week there are 102 area students attending the meetings. She and TCHCC director Megan Voss met with the county officials to update them on the progress of the coalition.
"We are currently working to get our community message online," Tietjen said. "We call it Mad Pad." Students record videos with messages about the negative effects of drinking, smoking, drug use and other teen-related issues. The videos can be viewed on i-Pads and cell phones since they are online.
Since the banners are portable, they can also be used during summer activities including baseball and softball games. Deshler TCHCC members will be taking their picture this Spring for a banner as well.